For our online seminar you will need a stable internet connection, a quiet place, yoga mat, writing materials and yoga cushion/blanket, teapot and a bit of "Robinson Crusoe" feeling.
All Svastha Yoga Therapy seminars will be offered in an online format this year and from now on.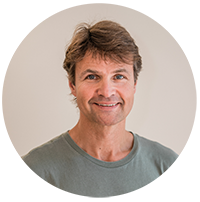 Dr. med. Günter Niessen
Orthopaedic surgeon, physiotherapist, yoga teacher, Ayurveda physician
FAQ Online - Seminars
What is the online format ? How are the lessons designed ?
The seminar times of the five-day seminars vary slightly depending on the organizer, but will be announced in good time before the seminar begins. We start in the morning either at 8 or 9 am and end accordingly in the afternoon between 4 and 5 pm.
The online times via Zoom are binding for all participants. A maximum of 10% of the time can be made up by reworking or re-listening to the audio recordings.
The seminars usually begin with a morning practice. Lectures, practice sessions and beneficial breaks with creative opportunities for self-experience will shape the day.
There is a daily lunch break of approximately 75-90 minutes.
The afternoon will include lecture, practice, group work on case studies, and a Q&A session.
Case studies can be handwritten (or typed) and emailed to us as a scan or photograph and will then be made available to all participants via Dropbox.
Via Dropbox you will also receive the audio recordings to listen to as well as drawings of the practice sessions as a PDF for download.
Is there a script?
You will receive the script for the corresponding module as a PDF file about a week in advance for preparation.
Technical requirements to participate in the class?
A computer, notebook or tablet, if necessary it also works on a smartphone
A standard DSL Internet connection
An Internet browser (e.g. "Google Chrome", "Microsoft Edge" or "Mozilla Firefox")
The program "Zoom" (free download)
Setting up a free Dropbox (2 GB) helps create space for the audio files, but is not a requirement:
https://praxistipps.chip.de/wie-funktioniert-dropbox-einfach-erklaert_50513
With which provider will the lessons take place?
The webinars take place via Zoom, so we can provide you with very good
visual
and audio quality. If you use an iPad or tablet, please download the free app "Zoom". If you are using a laptop, just click on the link and a window will open automatically.
Can you ask questions in class?
As in the face-to-face classes, the lessons are designed in such a way that you can ask questions directly to the teachers . This can be done via the chat function or spoken into the group or by mail. At the same time, you will of course benefit from the questions of other participants. At the end of each day and the course, questions will be answered. In addition, there will be a follow-up meeting 2-4 weeks after the course to address problems and questions that arise during the course.
Are the participants also interactive?
All participants have the opportunity to participate interactively, whether in chat or with direct questions to the teachers. The lessons are thus designed in the same way as in a face-to-face course on site: lectures, practical units and beneficial breaks shape the day. If you like, you can arrange your home in such a way that you can be present and practice with different seating options as well as a mat near the computer. The class will be audio-recorded for your listening pleasure.
How can I make up classes if I am unable to attend?
A maximum of 10% of the lessons can be made up by listening to the recordings. This is also in your interest, so that you can communicate with each other at eye level during group work.
Can I repeat the course? What costs should I expect then?
As with the face-to-face courses, repeated participation in the online courses is possible at half price, i.e. 305 €. There are always students who like to use this for themselves to refresh course content.
How can I specifically think of the class as opposed to just a face-to-face class?

'

The online classes are actually not much different from the face-to-face classes. We teachers lead yoga practices, explain functional relationships on the skeleton, for example, make the lectures visible on your screens, and provide practical examples on flipcharts as usual. You can call in during class and ask questions or post them in the Zoom chat. The advantage to teaching online is that the class can be recorded and listened to. The disadvantage is that eyes can get tired at times and it is not easy for some to keep their backs open at home. Times for eye exercises and practicing on the mat are important as well as setting limits so as not to be swallowed up by normal everyday life at home ;-))
Will I get a certificate at the end?
At the end of the training, our students receive a certificate of participation in the Svastha Yoga Therapy program after completing a short, written knowledge review. This is recognized by the Yoga Alliance as 300+ hours of continuing education upon completion of 200 hours of training.
Are there attendance times?
A maximum of 10% absenteeism is allowed, otherwise we cannot issue a certificate.
Are there performance reviews during training?
Yes, these are required and will be in the form of case studies, questionnaires, and group work in both written and oral formats.
What other offers are there?
We will hold a 2-hour Q&A session in addition to the five seminar days. Furthermore, we recommend local networking among each other to support each other regarding the practical application of the therapeutic tools.
Who are the teachers?
A short description of all teachers in the Svastha team can be found here here.
Implementation of the Svastha courses
Our online courses take place with a minimum of 15 participants.
What happens if shortly before the seminar
or during the seminar
become ill?
This can always happen and can be costly. Here we recommend a seminar cancellation insurance.
Where can I register?
Quite simply via our website: HERE
Do you have further questions?
You are welcome to fill out our contact form for seminar registration or call us at 0160 944 15 650 (Mondays from 1 - 2 p.m. and Thursdays from 8 - 9 a.m. )